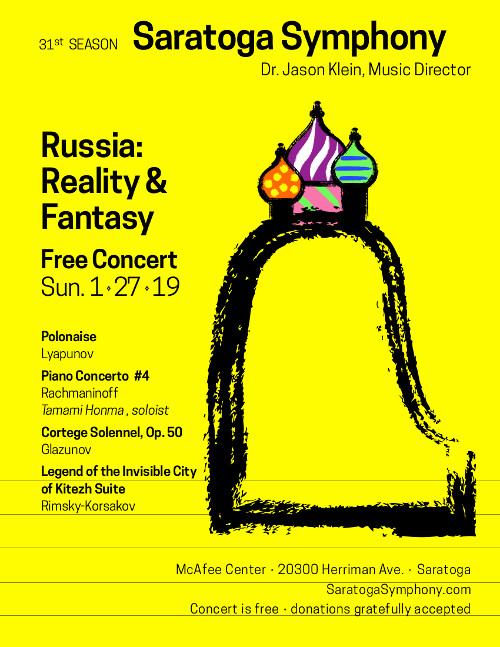 Rachmaninoff Piano Concerto 4
3pm Sunday January 27
Lyaponov Polonaise
Rachmaninoff Piano Concerto No. 4
Glazunov Cortege Solennel
Rimsky-Korsakov Suite from the Legend of the Invisible City of Kitezh


Tamami Honma, piano
Jason Klein, conductor
Free admission
McAfee Performing Arts and Lecture Center, 20300 Herriman Avenue, Saratoga, CA 95070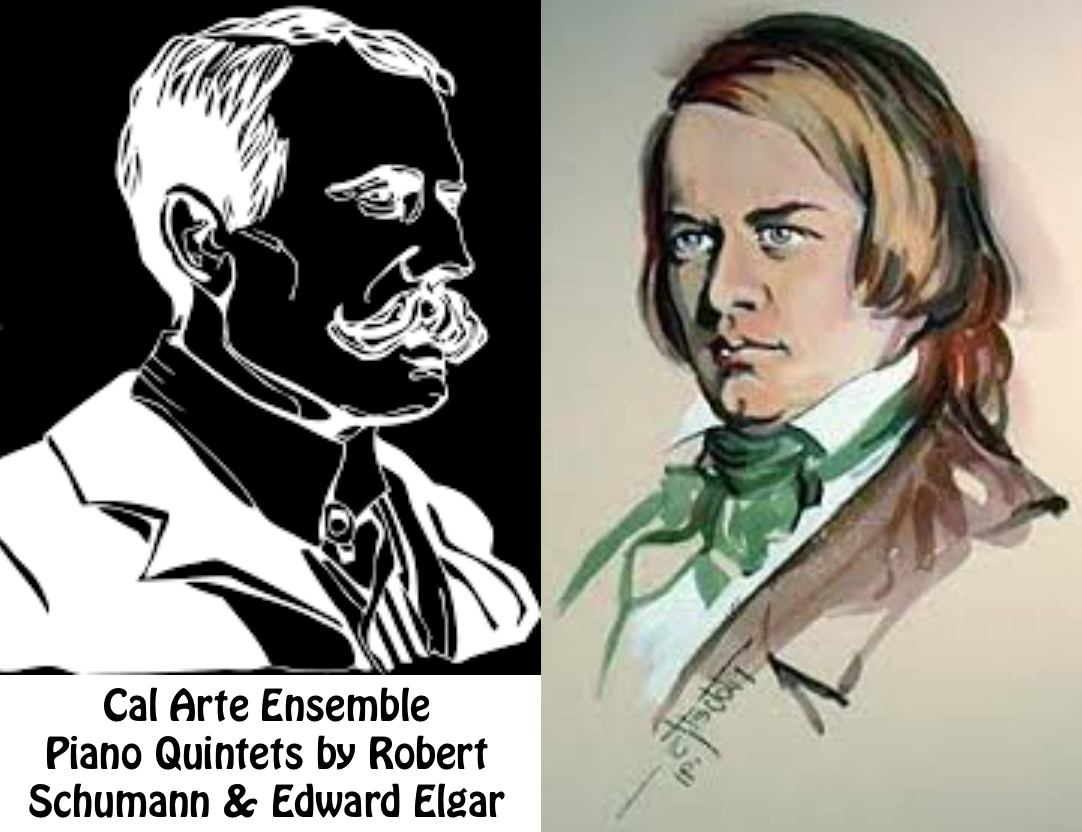 Romantic Visions & Illusions
4pm Sunday October 21
7:30pm Saturday October 27
Piano Quintet in E flat major Op. 44 by Robert Schumann
Piano Quintet in A minor Op. 84 by Edward Elgar
Tamami Honma, piano
Julian Brown, violin
Be'eri Moalem, violin
Goetz Leonhardt, viola
Walter Halvorsen, cello
Good Samaritan United Methodist Church 19624 Homestead Rd, Cupertino, CA 95014
When Schumann wrote his Piano Quintet in E flat the idea of combining a string quartet with piano was new. With this magnificent composition, considered to be one of the finest musical works of the 19th century, Schumann opened the way for a whole new genre of chamber music. Edward Elgar's Piano Quintet, written in 1918 at the end of the Great War came just a year before his famous cello concerto. It is a similarly powerful and expansive work and widely considered to be one of the composer's finest chamber works.
The Cal Arte Ensemble presents L'Histoire du soldat (The Soldier's Tale) featuring a full cast of narrator, actors, dancer and musicians in this major work by Russian composer Igor Stravinsky and his literary collaborator Swiss writer C. F. Ramuz based on a Russian folk tale, The Runaway Soldier and the Devil. In a modern twist on convention, the performance of the soldier will be played by a woman, singer-actor Katie Ahman, a two-time National YoungArts Winner.
The musical performance tells the story of a wayward soldier, who while on leave makes a Faustian bargain exchanging her violin (and soul) with the devil for a book that predicts the future. While the book makes the soldier immensely wealthy, it comes at great cost to her relationships with friends and family. In the hopes of making a new life she pursues a chance at winning the hand of a sleeping princess (Dian Meechai). The devil (Khris Sanchez), though, seemingly outplayed for a while eventually thwarts her plans.
The music has the unmistakable rhythmic and tuneful dazzle of Stravinsky featuring a lively concoction of jazzy figures, dance forms and marches for a small group of players. Besides narrator, and actors playing soldier, princess and the devil, the music will be performed by a seven-piece ensemble of musicians conducted by Cal Arte's artistic director Tamami Honma.
As an appetizer to each performance, Ms. Honma will be playing the piano with Cal Arte's resident violinist and co-director, Julian Brown in Stravinsky's neoclassical Suite Italienne for violin and piano, a work based on the ballet Pulcinella which in turn was based on the delightfully ear catching melodies of 18th century Italian composer Giovanni Pergolesi.